Glasgow-based construction firm, City Building, was presented with its third Queen's Award for Enterprise, as part of a prestigious civic reception in the City Chambers.
Executive Director Alan Burns accepted the accolade – considered the pinnacle of business awards – from Glasgow's Lord Provost Jacqueline McLaren in front of a wide selection of City Building board members and staff, including some of its trade apprentices.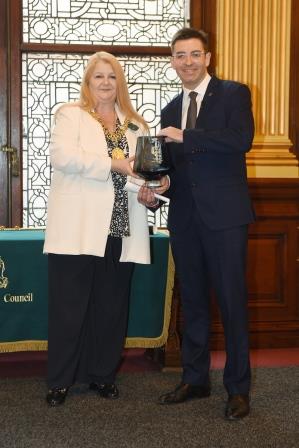 The Promoting Opportunity award recognises the firm's excellence in promoting opportunity through social mobility.
Equality and diversity are key to the construction firm's success, with robust measures in place to ensure that those from disadvantaged or under-represented backgrounds are given equal opportunities to thrive within the organisation.
This includes undertaking targeted recruitment activities amongst BAME (Black, Asian and Minority Ethnic) communities and people with disabilities, along with encouraging females to take up roles in the traditionally male dominated construction sector.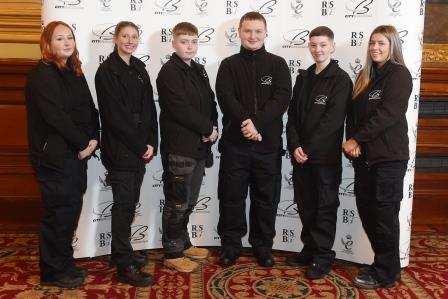 The Queens Award for Enterprise, recognised as one of the UK's most prestigious business focused accolades, honours the outstanding achievements of organisations across the country. This marks the third Queens Award for City Building, which previously secured the Sustainable Development Award in both 2018 and 2012
Alan Burns, Executive Director at City Building said "It was a true honour to be presented with City Building's third Queens Award for Enterprise. I'd like to thank the Lord Provost for receiving us at our wonderful and historic City Chambers, where many of our tradespeople have used their skills to maintain its beautiful surroundings.
"It means a lot to us that City Building's work on equality, diversity and sustainability is continually recognised in this way.
"This is a testament to every member of the organisation from apprentice level through to senior management, all of whom are dedicated to making City Building an equitable workplace. Our mission of building a sustainable future does not only relate to our craftsmanship but also to our workforce and ways of operating."
Lord Provost Jacqueline McLaren said "It was fantastic to present City Building with the Queen's Award for Promoting Opportunity. A category in recognition of their work delivering successful social programmes that offer disadvantaged individuals meaningful employment opportunities. My congratulations on their third, well-deserved, Queen's Award. I wish them continued success."