Springburn Schools to receive vital stationery packs for every first-year pupil entering the school this September.
Leading construction firm, City Building, has pledged to provide every pupil moving into their first year in Springburn's two secondary schools, Springburn Academy and St Roch's Secondary School, with a stationary pack to support their education.
City Building worked with Glasgow City Council's Financial Inclusion Team to identify how to best support young people in their local area. The project, expected to cost upwards of £8,000 will benefit youngsters from six different primary schools in the area. The pack, filled with vital essentials such as calculators, geometry sets, note pads, pens and pencils, will come in a drawstring gym bag made from recycled materials.
Currently, 3.7 million children in the UK live in poverty, with many more affected by the current cost of living crisis.
Mental health charities have issued warnings on the adverse effect this will have on young people's well-being for years to come. Children have reported feelings of inadequacy and low self-esteem due to their parents being unable to afford many back-to-school essentials.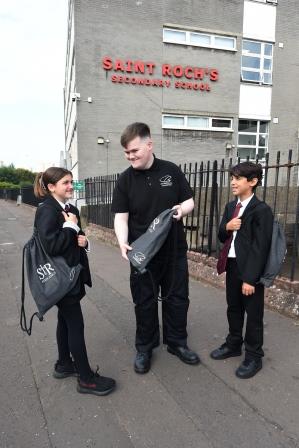 Stephen Stone St. Roch's Secondary Head Teacher said: "I know that our families will be very grateful for the support and the stationary packs will be used extensively by the young people. The back-to-school costs all add up so any additional help for our school community is gratefully received."
Funding for the project comes from City Building's annual charity golf competition, where the firm's suppliers and stakeholders come together to enjoy a round of golf and support their local community.
Alan Burns, executive director, City Building, said: "Every child deserves an equal shot at an education. I am proud that City Building is supporting local young people to flourish through their donation of stationery. I would like to wish the new first-year intake the very best of luck with their school year. Work hard, have fun and enjoy!"