City Building has started work to rebuild an outdoor learning classroom that was destroyed by a fire at a primary school in the north of Glasgow.
Following the fire in January 2020, pupils at Wallacewell Primary in Robroyston were devastated. Upon seeing the impact the damage caused, City Building said the firm vowed to rebuild the space in the hope of nurturing the children's love of the outdoors.
Despite delays due to shortages of materials amidst the pandemic, the headteacher and pupils of Wallacewell Primary School were joined by City Building and Rexel UK last week. Rexel, a wholesale electrical provider, works with the construction firm as a supplier of smoke and fire alarms, which City Building's workforce install in the homes of Wheatley Housing Group customers and those of other housing associations.
Both parties are covering the cost of construction, with Rexel's secondary role in the project to highlight the devastation which fires can cause.
Amongst the workers was councillor Allan Casey, a former apprentice joiner at City Building. He supported current apprentices through the erecting of the timber frame during its construction.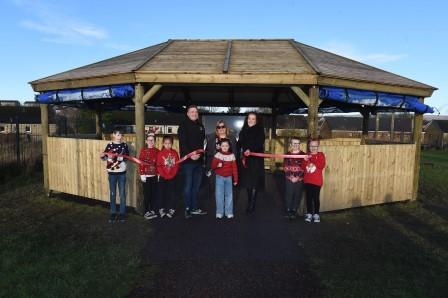 Councillor Casey said, "It is my pleasure to support City Building in their efforts to rebuild the lost outdoor learning classroom for pupils at Wallacewell Primary School. I hope that this classroom will inspire a love of nature in the children, and will encourage them to explore the environment around them."
Alan Burns, executive director of City Building, added, "On behalf of my colleagues at City Building, we are very proud to be a part of this project with Rexel. The destruction of the original classroom was mindless, but it is heartening to see the excitement of Wallacewell's Primary School children as the new outdoor classroom takes shape."
Miranda Greene, key account manager at Rexel UK Ltd, said, "Rexel working in conjunction with City Building are very happy to support the rebuild of the Wallacewell Primary School outdoor learning classroom."