Prince Charles has praised Glasgow construction firm City Building for its work in developing a new generation of construction workers.
Executive director, Alan Burns, was invited to an exclusive event at Windsor Castle where his royal highness made time to highlight the work of the firm.
City Building was awarded the 'Promoting Opportunity Award' back in April 2021, a category recognising businesses and organisations delivering social programmes to help people from disadvantaged backgrounds create successful working lives.
For several years, City Building has taken steps to ensure that those from disadvantaged and under-represented backgrounds are given equal opportunities, by targeting recruitment amongst BAME (Black, Asian and Minority Ethnic) communities, people with disabilities and encouraging females to take up roles in the construction sector and providing rigorous training to all employees at all levels.
Alan Burns was invited to Windsor Castle to acknowledge the award. During the event, he was singled out to meet Prince Charles, who spoke highly of City Building's commitment to creating jobs and training opportunities, especially for young people. The firm is Scotland's biggest employer of apprentices.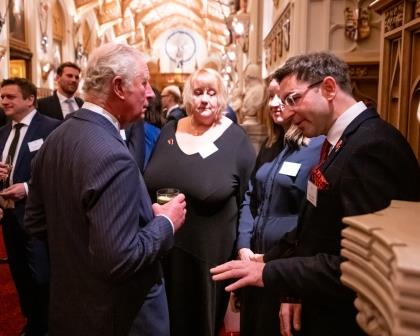 The Queen's Award for Enterprise celebrates outstanding achievements from organisations across the UK and is it recognised as the most prestigious award any business can win. This is the third Queen's Award for Enterprise the firm has won, having previously been granted the Sustainable Development Award in both 2018 and 2012. With the award, City Building has become just one of 18 companies to be recognised in 2021.
Alan Burns, executive director at City Building, said: "It was an absolute privilege to represent City Building and all its employees at this event celebrating our employees and developing our future workforce.
"Being recognised by Prince Charles is a great boost for the business and our unique social ethos. Since its beginnings City Building has always placed huge emphasis on investing and developing our workforce, and our training facilities are some of the best in the country.
"The 'Promoting Opportunity Award' holds special relevance to us as a business due to our commitment to developing our workforce. As a former apprentice myself, I know just how valuable and career changing the right support early in your career can be and we make sure that our roles are available to anyone regardless of background."
City Building has been recognised with several awards in recent years, including being named as one of the top 90 businesses in Scotland for employment and diversity, a Gold Health and Safety award from the National Federation of Roofing Contractors and a national HR award, that is typically won by an individual, rather than a business.