A new state-of-the-art training college is set to be constructed by City Building to meet the future demands of its craft apprenticeship programme and continuous upskilling of its workforce.
Located on the grounds of Royal Strathclyde Blindcraft Industries (RSBi) near Springburn, the new City Building Training College will be capable of housing more than 250 apprentices and tradespeople. As well as accommodating those undertaking initial training in various disciplines from painting to plumbing, electrical, joinery and gas engineering, it will also provide a base for City Building employees taking courses in subjects such as asbestos, roofing and health and safety.
With construction due to begin in 2020, the new college will combine classroom space incorporating the latest technology with specially designed work units enabling people to undertake practical tasks and will see City Building consolidate its current training facilities at Queenslie and RSBi into one place.
The new college also supports a wider strategic vision to provide more training opportunities within the city. City Building already runs one of the UK's most successful apprenticeship programmes, employing 254 craft apprentices, equivalent to 13% of its overall workforce and 4% of all craft apprentices in Scotland. However, it aims to create 2,000 new craft apprentices over the next 30 years – a commitment made by the firm when it formed its joint venture between Glasgow City Council and Wheatley Group in 2017.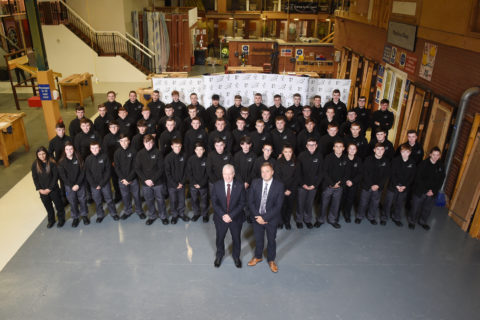 Cllr Allan Casey, chair of City Building said: "The new facility is a crucial part of our strategic vision to create jobs within the city. It supports our wider aim to get more young
people into work or training and build wealth within communities
"The construction sector is an important part of the Glasgow economy but to grow the industry and create further employment opportunities we need the skills and resources to bring up the next generation of tradespeople.
"City Building already runs one of the UK's most successful apprenticeship programmes and the construction of a new college will allow them to continue supporting skills development and training within the city."
Dr Graham Paterson, executive director of City Building said: "City Building has always been one of Glasgow's largest training providers and we are incredibly proud of the role we play in supporting hundreds of young people gain the skills and experience needed to further their careers.
"Our approach is centred around bringing life-changing opportunities through employment and training, ensuring our workforce have the right skills and confidence to deliver our services and products to all of our customers.
"This new City Building College is the next step in our journey which allows us to further embed this approach, while retaining our various industry accreditations and improving our outcomes."
At City Building 95% of all craft apprentices complete their apprenticeship in comparison to the industry average of only 75%. Due to its successes, City Building's apprenticeship programme has achieved numerous industry and business awards including the Queens Award for Enterprise in 2018 – the most prestigious award to be bestowed on a business. Last year alone it delivered 50,000 trade specific training days.