Glasgow-based construction firm, City Building, has created valuable job opportunities for young people across the city after welcoming 60 new apprentices, with support from the Glasgow Guarantee.
Following an intensive recruitment process, this year's intake includes apprentice joiners, engineers, electricians, painters and decorators and plumbers.
Of the 60 trade apprentices, 3.3% identify as BAME (black and minority ethic), which contributes to the firm's major drive to improve diversity across the business. According to Skills Development Scotland, those taking up a modern apprenticeship who identified as BAME contributed to 2.3% of all new apprenticeships last year (2018/19).
Females accounted for 7% of new starts, which is also reflective of City Building's commitment to provide equal opportunities for women in the construction industry.
The cohort, who started in October, completed a rigorous interview and testing process ahead of their training which had to be adapted to meet Covid-19 restrictions. They will eventually be deployed to construction sites across the city for on-the-job learning whilst continuing to attend regular classes at the organisation's Queenslie Training Centre, an in-house SVQ approved College.
Holly Goodwin, 16, from Sandyhills in Glasgow has started her apprenticeship in mechanical service engineering. After undertaking work experience in City Building's RSBi facility whilst at school, she was determined to get a place on the apprenticeship programme.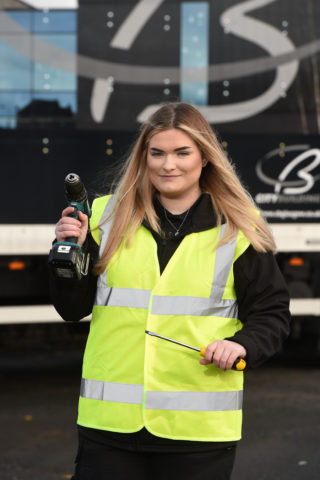 Holly said: "During my work experience, I spent some time with the mechanical service engineering team and instantly knew it was what I wanted to do. I found it so interesting and I felt the apprenticeship programme was perfectly suited to me. I worked really hard at school to get the grades I needed to get a place on the course because I knew how popular it was.
"The first few weeks at City Building have gone really well. Everyone is so friendly and supportive, and although the world is quite a stressful place at the moment, it's a really nice atmosphere. I'm so pleased to have started my apprenticeship – being able to spend some time at college learning the theory, and then putting it into practice on site is fantastic.
"I'm really excited to see what the next few years will bring. I'd love to be in a management position one day, but right now I'm happy to be doing my apprenticeship!"
Cllr Allan Casey, Board Chair, said: "After an unprecedented year, I'm extremely pleased to welcome another new wave of apprentices. As a former apprentice myself I believe that now, more than ever, is such an important time to support Scotland's young people learn and develop, helping them to achieve success in the world of work.
"Championing young people and developing new talent has always been at the heart of our apprenticeship programme, and we've developed it to be one of the best in Scotland. We are lucky to have some of the best trainers in the industry who put a lot of time and effort into training our apprentices. I'm very much looking forward to seeing our new cohort go from strength to strength."
GHA Chair Bernadette Hewitt said: "We want to do everything we can to help young people in our communities reach their full potential. The apprenticeship programme with City Building is an outstanding opportunity for young men and women to get their foot on the career ladder and learn skills which will serve them well for life.
"The impact on the economy and the job market caused by Covid has made it incredibly challenging for young people to find their first job. It's great to know many of these apprentices not only live in our communities but will play a key role in them for years to come as we deliver a first-class repairs and maintenance service to our customers."
City Building has one of the highest qualification rates in the industry, with around 94% of apprentices becoming time-served compared with an industry average of around 75%.
The Glasgow-based firm carries out a wide range of services from the construction of new builds to repairs and maintenance, manufacturing and training, and is one of Scotland's largest construction firms.