Brooke and Cameron Moir
After continuously hearing from big brother Cameron, 20, a third-year joinery apprentice, about how much he enjoyed his apprenticeship at City Building, 17-year-old Brooke was determined to follow in his footsteps.

Now in her first year of an apprenticeship in City Building's health and safety team, she was one of the organisation's youngest employees when she joined last summer straight from fifth year at school.
Cameron, who is currently based at the Glasgow Gaelic School, where he is helping to build a new gym hall, has his sights on going into construction management and eventually working overseas. To help him achieve his career aspirations he is undertaking an Advanced Craft course. His hard work has already been recognised with nominations for several awards.
They've both been surprised at the amount of training they've undertaken which is additional to the core focus of their apprenticeships. Cameron said: "You need to know a lot about industry regulations and health and safety." And Brooke added: "I had to do basic electrical wiring, so I could understand some of the health and safety issues around the location of sockets."
Brooke has also been learning about health surveillance, a series of ongoing health checks designed to protect employees from work-related ill health. As part of her role, she also spends one day a week at RSBi brushing up on her IT skills.
"It is amazing how many people work here, added Cameron. "The opportunities are great."
Ellie Willison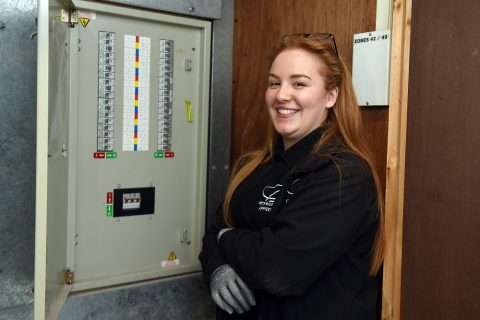 Ellie Willison, 19, a first year electrician apprentice, was inspired to choose a construction career after a lifetime of helping her dad do odd jobs around the house. She initially tried a joinery course but wasn't enjoying it and after undertaking work experience at City Building, applied to switch to become an apprentice electrician with the Glasgow construction firm.
Currently based at the Wingets, where she is rewiring social housing, she said: "I've always wanted to work in construction and I like working with men and boys. I thought I'd get a bit of stick for being a girl, but I've never had any digs.
"What's great about City Building is that it has its own training college . Other firms have to send you to college to get qualifications, but everything is all part of the same company here.  instructors all communicate with each other and I really appreciate the investment that the business is making in my career."
When she has completed her qualification, Ellie would like to travel. "This is a job that can be done anywhere," she said.
Ardsheep Singh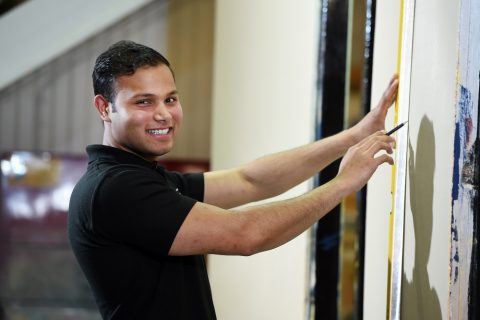 Ardsheep Singh, 20, knows how tough it can be out in the jobs market without strong qualifications or a trade. After completing a short college course in painting and decoration he found himself working part time in retail to make ends meet and also spent six months being unemployed. "It was quite depressing," he said.
Now a first year apprentice painter and decorator, he spends two weeks at Queenslie Training College  and two weeks on site. I've been learning lots of different units on basic painting, preparing woodwork, and colour which was really surprising. There is much more science behind it than I had thought. For example we have explored how colour makes you feel."
His ultimate ambition is to have his own business but for now he is determined to successfully complete his apprenticeship and be retained as a full time tradesperson at City Building. This is a big opportunity for me," he said. "I know what it is like when you can't pay the bills."
Phoebe Ali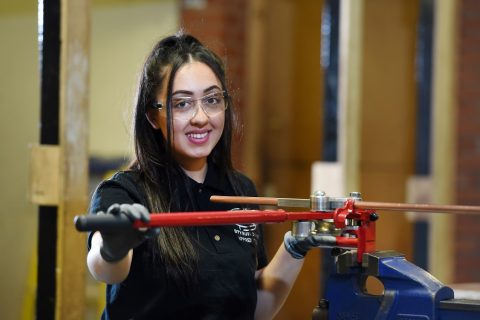 Third year plumbing apprentice Phoebe Ali knew from an early age that she didn't want to sit at a desk. She was also keen to learn a trade as she would always "have something to rely on".
Based at Carntyne, where she is part of a team refurbishing social housing, her main role is to assist tradesmen as they install kitchens and bathrooms. She also continues to attend Queenslie Training College  every couple of months to advance her skills.
"I enjoy working with good people and learning my trade," she said. "You do come under a bit more scrutiny as a woman in this business– everyone knows who you are. But my aim is to carry on working at City Building and be a good tradeswoman."
After moving into a new flat she has also found it very hand to be in the construction industry. "I have had lots of help from my apprentice friends. Even my boss has given me advice," she laughed.
Fraser and Lewis Scott

Despite their three-year age gap brothers Fraser and Lewis Scott, are both second year joinery apprentices. Fraser, 21, has always wanted to work in construction but was unsuccessful the first and second time he applied to City Building. By the time he was accepted on his third attempt Lewis, 18, had also got in on the act.
"Our mum was chuffed because there aren't that many apprenticeships out there," Fraser said. "I loved joinery at school and my cousin's partner who lived upstairs from us worked at City Building, so I had grown up watching him going off in his van."
"And I wanted to do something physical, because I am not interested in admin or paperwork" added Lewis.
For Fraser, one of the best things about working at City Building is the job security and the employee benefits such as paid holidays and time off over the Christmas period. Lewis likes the support that is available. "Even if you have personal problems there is always someone to talk to."
Both agree that the people they meet at work makes the job enjoyable. "It's like a family," Lewis said.
Vittorio and Santino Pelosi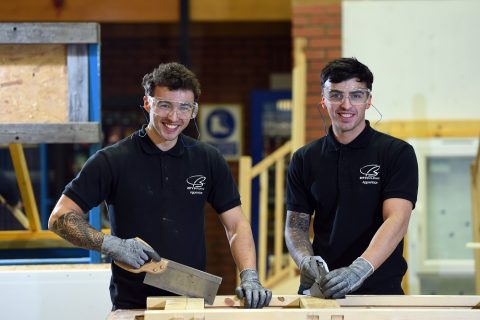 20-year-old twin brothers, Santino and Vittorio Pelosi, known as Sonny and Vito, are in their third year of joinery apprenticeships at City Building. Prior to joining the firm, the boys worked at their parent's eponymous café on Park Road, in Glasgow's West End.
Sonny said: "We knew a few friends who were working as joiners and electricians at City Building when we were working in the café, and they all said really good things about their jobs. Once we decided that we wanted to do an apprenticeship, they helped us with our interviews and we secured our places."
Vito added: "One of the best things about our apprenticeship is the skills we've learnt. We really enjoy the work that we do, and we've made lots of new friends too."
Recently, the duo has been working on a school in Sighthill, where they have been building bathroom kits and kitchen units for the interiors. Both Sonny and Vito hope on completing their apprenticeships to work full time for City Building.
Gareth Nzelwa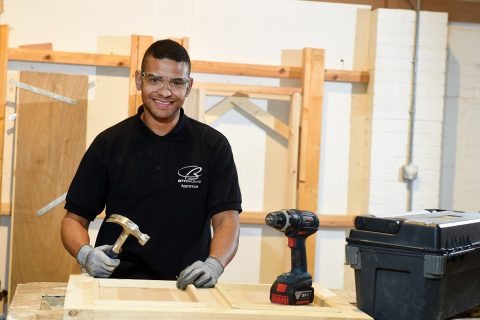 Gareth Nzelwa joined City Building as a joinery apprentice a year ago, after spending time at Royal Strathclyde Blindcraft Industries (RSBi) where over half of the organisation's 260 employees have a disability. Aged 30, Gareth is one of the oldest apprentices at City Building and is hearing impaired.
A typical day for Gareth sees him in the workshop, making doorframes and cabinets. Soon, he'll be making windows too.
Gareth said: "I feel comfortable at City Building. I've bonded with a lot of people here and make lots of friends. I enjoy working with others.
Once he's qualified, Gareth plans to work full-time as a joiner. He added: "I like working with my hands."
Chloe Ross

17-year old Chloe Ross is in the first year of a painting and decorating apprenticeship.  After spending a week of work experience at City Building when she was at school, she knew she wanted to secure an apprenticeship with the business.
She said: "I was the first girl from my school to leave and go into construction. I really enjoyed my work experience and I wanted to come back because there is such a good atmosphere at City Building."
Chloe has recently finished a project in a pensioner's home, where she filled holes in the walls and gave it a fresh lick of paint. She continues: "I was surprised at the amount of theory I would be doing when I started my apprenticeship. There's a lot of technique that goes into being a painter, and it comes with hard work, time and experience."
Apprentices at City Building are given full support in their learning and throughout their studies. Chloe explains: "The team here are very helpful and are always so supportive. No matter what you're struggling with, you can always ask for help."
Once she completes her apprenticeship, Chloe hopes to study construction management and become a site manager in the future. She adds: "I'd love to do that, but I'll take one step at a time and see what happens."
Connor Hamilton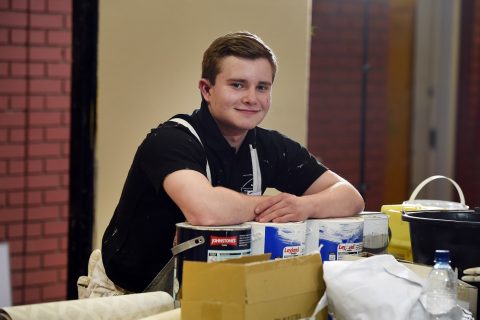 Connor Hamilton, 18, is in his second-year painting apprenticeship at City Building and is hearing impaired.
Connor joined the firm after he left secondary school and says the apprenticeship "made his life."
He explains: "Since being here, my confidence has grown, and I feel much more mature. My time at school was up and down, but here, I feel much more positive. My college class is small, which means that my lecturers can spend time with me when I need extra support. There is a real sense of teamwork within the class too, which is great."
Connor is following in his father's footsteps, who was also a painter. Connor added: "I like working with my hands and learning new skills. I'm aiming to be a full-time painter when I qualify."
Candice Ronald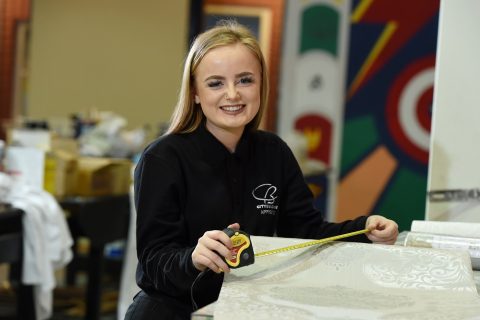 16-year-old Candice went from make-up brushes to paintbrushes after joining City Building as an apprentice painter. Prior to her apprenticeship, Candice spent time in the beauty industry as a therapist after training at an Enhanced Vocational Inclusion Programme.
She said: "I love make up, and painting is just like make up on a bigger scale! I love my apprenticeship and I really enjoy learning a trade. All our lecturers are so supportive and helpful, and there is always someone to talk to if you're having any issues. They help you develop a study plan too, so you always know what you should be doing."
Candice heard about City Building through her uncle, who had completed his painting and decorating apprenticeship with the firm.
She said: "Once I told my uncle that I was doing my apprenticeship, he was really excited for me. He couldn't recommend City Building enough as a place to learn and work. He had a great experience, so I was really excited to get going myself."
Candice plans on undertaking HNC and HND qualifications at college, to further her skills and knowledge in the industry. Once qualified, she'd like to stay at City Building as a full-time painter.
Liam Simpson and Graham Taylor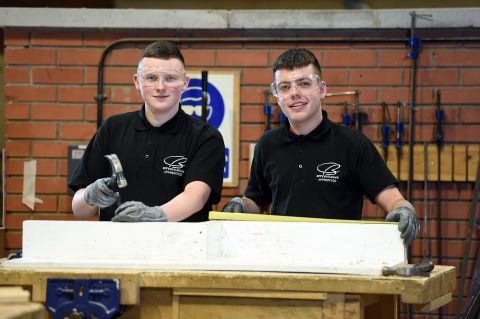 Best friends Liam and Graham, 16 and 17, are both first year joinery apprentices. Having met when they were 12 years old at school, the pair have been best friends ever since.
Graham said: "It was a bit of a coincidence that we both ended up at City Building. Both of us spent a week of work experience here, where we were able to do a bit of a taster of everything on offer here. We both tried plumbing, electricals and painting, but both of us liked joinery the most. We did some woodwork at school, so we knew a little bit about it."
Liam said: "I was supposed to do an apprenticeship with another firm, but it fell through and I managed to get a space with City Building. Graham and I were really pleased to be together again.
"Learning a trade and having all the practical skills behind us was something that we both really wanted to have. I'd love to stay with City Building once I qualify, but I'd quite like to travel too."
Both boys agreed that one of the best parts of their job is making a difference to people's homes.