After last month's publication of a landmark report which outlined the diversity performance at City Building, Kieran Findlay and Darren Robertson visited the company's Queenslie Training Centre in Glasgow to ask executive director Dr Graham Paterson about what drives its promotion for social inclusion.

City Building was established from the former Building Services Department of Glasgow City Council in October 2006 to operate as a construction and property maintenance business within the public, private and third sectors. Though the main purpose of providing and securing sustainable employment, including for people with disabilities, delivering craft apprenticeships, recognising key priorities of social renewal, sustained employment, employee development and training is at the company's core.
Now one of Scotland's largest construction businesses, the firm employs more than 2,200 staff, delivering a wide range of construction and maintenance services across the city and beyond.
According to the study, 49% of City Building's workforce comes from postcodes contained within the top three areas of the Social Index of Multiple Deprivation (SIMD) – a triennial ranking of geographical areas in Scotland based on their relative level of deprivation, using measures such as health, crime and employment.
Almost a quarter of staff (24%) are from the most impoverished postcodes which are ranked as SIMD 1 by the index.
Dr Graham Paterson, executive director of City Building, outlined the firm's core mission and explained some of the steps it has taken to help achieve it.
He said: "I think it's part of our ethos in terms of our social values to give something back into the communities which we serve, so that's fundamental to us. For us it's putting something into the community as well, it's targeting these areas to put some employment and value back into the communities.
"The apprenticeship programme is earmarked for school leaver within Glasgow through the Glasgow Guarantee scheme and we look at the various postcodes throughout the city. A high proportion of future apprentices that are applying come from areas that suffer from deprivation.
"There's a lot of social deprivation within Glasgow but there's a lot of improvement as well. A lot of investment has been made in the city over many years but the main thing is about jobs and the creation of jobs. Our joint venture with the Wheatley Group allows 2,000 apprenticeships to be created over the next thirty years and a lot of them will come from areas within the city that have social deprivation. If we can change some of that and help that's very important."
"Even when I was an apprentice, these values have always been there."
Expanding on City Building's approach in targeting the city's schools, he said: "What our apprentices will do is go around those schools and talk about their experiences of being an apprentice and how they feel about working in the construction industry to try to encourage young people within schools to pick the construction industry as a career path.
"From that we offer talent taster sessions from which they'll get an idea of what it actually means to work in the construction trade. They may then decide that construction is not for them but the programme has been very successful and generates a lot of interest within the trade.
"We've got a huge skill shortage within the industry, so we've been trying to encourage as many people as we can."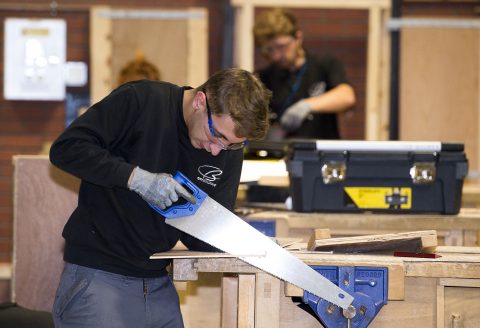 Indeed Scotland's construction skills shortage was highlighted in a report published by CITB Scotland just this month which estimated the overall demand for workers in the sector to be 247,300 in 2018, representing a shortfall of nearly 6,400 workers on current employment.
Dr Paterson describes the shortage as a "huge problem" and signed City Building up to the Glasgow Guarantee programme to encourage people to enter an apprenticeship. A legacy of the Commonwealth Games, the £50 million Glasgow Guarantee programme offers a commitment that all sectors in the city will work together to ensure that young people are assisted into employment and training. The Guarantee pledges to assist 1,000 Glaswegian residents into apprenticeships or employment per annum.
As a result, everyone who applies for an apprenticeship at City Building through the Glasgow Guarantee initiative gets the chance to interview and is guaranteed an attempt at the numeracy, literacy and practical stages of the process.
While Dr Paterson concedes that not everyone that applies can stay on to gain their apprenticeship, the company still produces around 60-70 apprentices every year. A number he describes as "significant" when compared to apprenticeships across Scotland and the UK construction industry market. City Building is Scotland's biggest employer of apprentices with over 250 currently directly employed. Its apprentices achieve a completion rate of 94% compared with an industry average of 75%.
"People are receiving training for a career and are achieving a passport for the rest of their days in the construction industry."
As a former apprentice himself, Dr Paterson appreciates how invaluable this commitment is to the city of Glasgow and its people. It's also important for City Building and its staff to reflect the areas it operates in. Dr Paterson highlighted the role of Lesley Quinn, City Building's head of client management and communications, under whose stewardship the firm put 141,000 hours into community projects in 2016 alone.

"For me that's what City Building is about," he added. "It's about employment training, it's about adding real value. I think we're pretty unique in that sense. Yes we're a large construction business, we do make a financial return and I think we're efficient and effective in what we do and we are quite diverse in a lot of things we do. But we are pretty unique in terms of the social values and ethos and it is about putting work back into the community, it's about apprenticeships promises, it's about RSBI, it's about progression within our organisation as well and giving people real opportunities.
"That's always been our values even when I was an apprentice, these values have always been there and it's always been a real driver for us."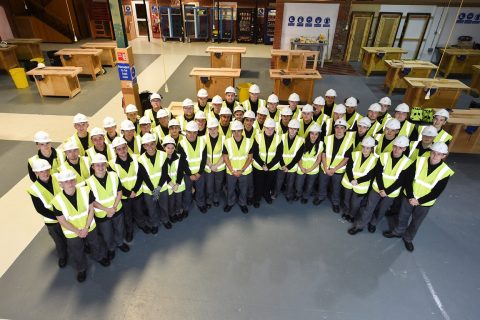 City Building's diversity report found that 9% of its apprentices are female, compared with 2% of Modern Apprentice starts in the Scottish construction sector last year, while 99% of all apprentices are from Glasgow, with 38% coming from the most deprived areas in Scotland. With City Building employees earning an average of £27,805, compared with the average Scottish salary of £22,918, their salaries are helping to reduce income poverty in these areas.
Dr Paterson believes there are other benefits that can be harnessed by having a diverse workforce.
"I think that there's a lot of knowledge sharing and different views being expressed across the board. A diverse workforce is also much more open workforce, for example, a female apprentice can be absolutely fantastic and bring a lot of skills to the table," he said.
"Also there was a Women into Construction programme in which you had single mothers taking children to nursery and having to do an apprenticeship over two and a half years. That's very challenging for them and to me it demonstrated the different type of challenges that individuals within a diverse workforce can face."
"We're seeing a lot of people coming through the apprenticeship programme to more supervisory, managerial roles."
Dr Paterson added: "Within RSBi there is a whole range of people with different types of disabilities and every single day they come in and deliver a fantastic job for City Building and the city. People can see that and learn from that as well and learn from each other. So I think the more diverse the workforce is, the more knowledge you can bring in and more views and values you acquire and all that is very important.
"Of course there are the immediate benefits for the people themselves. It can benefit their self-esteem to get a job if you're coming from one of the more deprived areas of the city. Their self-esteem can be very important, giving people the responsibility of having a job can reverberate around their daily lives and they can put something back into the economy and the city and it can make those people feel better about themselves. I think when people get a job it makes a huge difference.
"Even just when you consider our apprenticeship programme and its 94% pass rate. I think that alone tells you that people are really keen to get on and we're seeing a lot of people coming through the apprenticeship programme from a trade background to more supervisory, managerial roles and then to senior roles and that's fantastic for us to see. People are receiving training for a career and are achieving a passport for the rest of their days in the construction industry."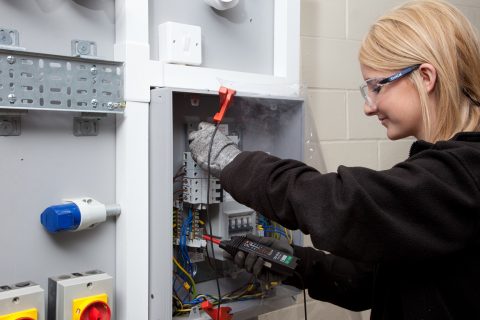 While City Building's efforts to attract young people from the most impoverished postcodes can no doubt be rewarding, there is no doubt that challenges can exist in doing so. But the company has its methods for tackling those issues too.
"For our training team, tradespeople and managers within the various working areas it's about mentoring people throughout the programme, and while each may have their own challenges and difficulties, it's how you mentor them through it and I think that's demonstrated by the high pass out rate," Dr Paterson explained.
"That includes a lot of work and time collectively from everyone including the individuals themselves. You have to make sure that if there is an issue or a problem, you got to highlight it at a very early stage and you've got good backing from the trade unions to make sure you can support them as much as you can through the programme. It doesn't matter if they are from a deprived area or not, everyone has their individual challenges and it's just a matter of addressing any issues that arise.
"We've got a lot of expertise at City Building as many of our training staff came through the ranks of being an apprentice through the trades themselves so they understand the dynamics of a young person and having individual needs.
"We always say on the parents' night 'We will get you through the apprenticeship, just turn up at work, be on time, be respectful to the people who are showing you what to do and listen to the managers and the training staff and we will get you through the apprenticeship programme'. We also do a six-week induction programme before the young people even pick up a tool for their trade which covers healthy living and a raft of things about the wrap around services we'll do for the apprentices."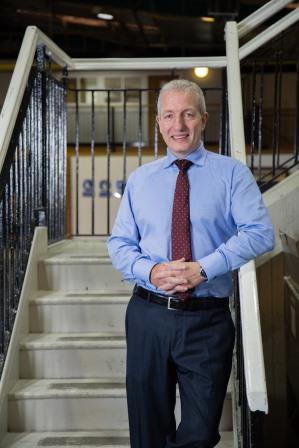 One of the main reasons behind City Building publishing the diversity report was to provide a benchmark against which the organisation's future performance can be measured.
The research showed that overall City Building's workforce ethnic diversity is below the UK average at 2% compared with 6% for the wider industry, but according to the analysis progress is being made amongst younger employees with 4% of apprentices coming from an ethnic minority background compared with 2% of apprentices across Scotland.
The first of its kind for the construction industry in Scotland, the study followed a report published by the Fraser of Allander Institute which highlighted the economic and social impact City Building has in Glasgow, in Scotland and the industry as a whole.
For Dr Paterson, it was an opportunity for City Building to gain an independent insight into how inclusive and diverse the company truly is.
He said: "Following the Fraser of Allander study we said OK we know we do apprenticeships, we have RSBi, we have the largest number of female craft apprentices in Scotland, we have a lot of female trade apprentices, we've got a whole lot of things to be proud of but let's have a deeper insight so we know exactly what we are particularly good at and where we need to make improvements. I think this report allows us to take a look at that from a business perspective. It's also out there for other construction companies and other industries to benchmark and build upon."
Using the evidence-based report's analysis, Dr Paterson looks ahead to the short and long term priorities for City Building.
He said: "I think what the report has demonstrated is that we are in a quite strong position in the industry. It's been a very positive report though there are certain areas we need to look at, for example, attracting more people into construction sites for the BME communities since at the moment only 4% of apprentices come from that background. I also think we can do a lot more than we do now in terms of attracting female craft apprentices and into the industry as a whole. I think we've got great role models, for example, Lisa Murphy who has won lots of awards and is absolutely incredible and we've got Tracey as well who is now running one of our sites so you have a lot of good examples. But we'll use that report to improve that further."
In April 2017 City Building entered into a £3.7 billion joint venture (JV) alongside Wheatley Group and Glasgow City Council with a pledge to provide a modern, localised and even more efficient repairs and maintenance service to thousands of affordable housing tenants.
The JV allows the business to set out a plan to know what resources and apprentices are required over the next five years.
"It's a fantastic situation to be in where you actually look at it from a short-term perspective and also know what's going to happen in three, four or five years into the future," said Dr Paterson. "For City Building Contracts, which operates in schools and building sites, we can see its programmes and find out what types of work specialists are required, what we are currently sub-contracting out and look at what we can internalise and build up businesses.
"The other side is overlaying that with RSBi which has more certainty going forward as well because, while a lot of work is tendered externally, 60% of it is internally via the Wheatley Group and Glasgow City Council. Overall it allows us to plan our workforce plan much more effectively."