Leading Scottish construction company City Building (Glasgow) LLP, played host to some of Scotland's leading business representatives as part of a ""Behind the Scenes: Ask the Apprentice"" event where they could see first-hand the value of the company's modern apprenticeship scheme.
The event took place at the company's Queenslie training centre on Tuesday 21 May to mark Scottish Apprenticeship Week. It was attended by members of the Scottish Council for Development and Industry (SCDI) which consisted of global players, SMEs, colleges & universities, government agencies, local authorities, trade unions, charities and the third sector.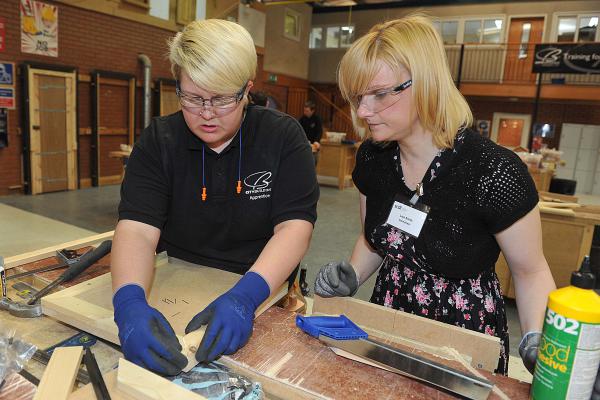 The members participated in events, which provided insight into the positive effect that apprenticeships can have, not only on those who are employed through the scheme but also for employers and the economy.
The delegates were given the opportunity to take part in some hands-on participation during the event which saw them split into groups to carry-out tasks with the help of the apprentices, such as: how to wire a plug, how to build a house and painting and decorating techniques.
Vince McKeown, Director of Membership & Partnership Services, said: ""Building on the success of ""Ask the Apprentice 2012,"" SCDI are delighted to work in partnership with City Building to deliver this year""s event during Scottish Apprenticeship Week.
""The City Building apprentices are an excellent example of the value and positive impact Modern Apprentices can have in tackling youth unemployment and improving economic growth prospects for the nation""
City Building (Glasgow) LLP, has one of the largest SQA approved Training Centres in Scotland and – since its inception in 2006 – has trained 1,000 craft apprentices, including new areas such as renewable energy as well as more traditional skills like electrical and joinery.
Graham Paterson, Executive Director at City Building, said: ""We're very happy that many SCDI members decided to participate in our ""Ask the Apprentice"" event. It is a great way for businesses to see the value that can be gained through apprenticeship schemes both for the apprentice and the employer.
""It is also serves to demonstrate our confidence in the high quality of work carried out by our apprentices on a daily basis. We hope that this event will lead to other businesses considering Modern Apprenticeship schemes in future.""
Scottish Apprenticeship Week is led by Skills Development Scotland and runs from 20 – 24 May 2013. It is designed to celebrate the commitment of employers and the emerging talent of apprentices from all over the country.